Details: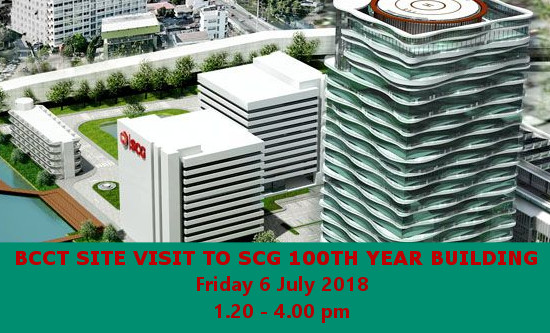 BCCT members are invited to join the Site Visit to SCG 100th Year Building. The SCG 100th Year Building was awarded with the Leadership in Energy and Environmental Design for Building Design and Construction: LEED BD+C with the highest achievement of LEED Platinum from the US Green Building Council (USGBC) in 2014, making it an excellent prototype for energy-efficient and environmentally friendly buildings for the new working generations as well as being ready to expand the green building experience to other organizations.
Date: Friday 6th July
Time: 1.20 pm (please see visit schedule below)
Venue: SCG 100th Year Building, 1 Siam Cement Rd, Bangsue, Bangkok (MRT: Bangsue exit 2)
Map: here
Cost: free of charge if members choose to drive your own vehicles. THB 500 net per person including transport (van), snack and beverage on the bus. When booking please indicate in the comment box of your transport option. This event is open to BCCT members only.
Booking: Due to limited number we request one representative per company. No walk-in please.
Parking: please advise your car licence number if you wish to drive.
Agenda:
1.20pm - Arrive at SCG 100th Year Building's Reception Hall, 1st Floor. A representative from SCG leads the guests to Demonstration Room, Mezzanine Floor.
1.30-1.40pm - Safety VDO Presentation
1.40-1.50pm - Welcoming Speech by Mrs. Aungsuma Krueathep, Integrated Workplace Management Department Manager, Facility Management Division
1.50-2.00pm - VDO Presentation of SCG profile
2.00-2.20pm - "SCG 100th Year Building" by Ms. Thanissara Pedyod, Team Lead, Integrated Workplace Management Department, Facility Management Division
2.20-2.50pm - "Leadership in Energy and Environment Design (LEED)" and "Thai's Rating of Energy and Environmental Sustainability (TREES)" by Mr. Panupant Phapant, Portfolio Management Manager, SCG Cement-Building Materials
2.50-3.15pm - Sharing Session
3.15-4.00pm - Tour to SCG 100th Year Building
4.00pm - Depart from SCG Headquarters