Details: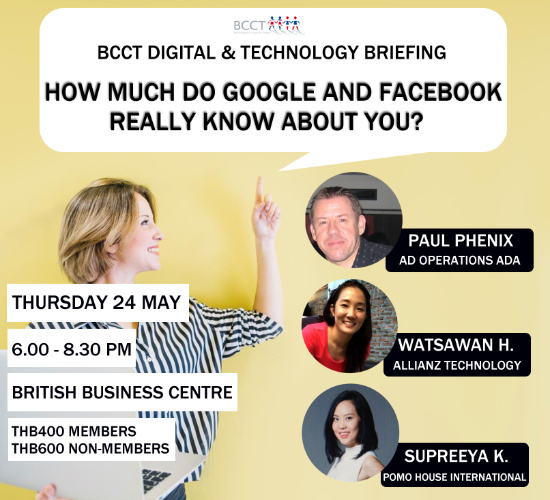 What data is collected (and shared) about you and how is this data used in Digital Advertising?
The last 10 years have seen huge changes in digital advertising, from simple keyword-targeted ads to data-driven personalised ads targeted to reach customers at the right place and time on phones, tablet, computers and digital TV.
The Cambridge Analytica scandal has highlighted how this data can be used and has started people asking "what information is collected about me? The EU is about to bring in legislation to give people more control of data collected on them, however, the rest of the world has no imminent plans to do the same.
The panel for this briefing consists of digital advertising professionals and data scientists who can answer your questions on what information is generally collected and how it is generally used.
A short presentation on how data is used in digital advertising will be followed by a Q & A session and a panel discussion.
Event detail:
Date: Thursday 24th May
Time: 6.00 - 8.30 pm
Venue: British Business Centre, BCCT Office, 7th Floor, 208 Wireless Road (Nearest BTS: Ploenchit Exit 5) (map)
Topic: Is the data collected by Google, Facebook and others too personal? What data is collected and how is it used?
Panelists:
Paul Phenix - Director of Ad Operations ADA - has 14 years' experience in Digital Advertising on Google and Social Media. He is currently managing the delivery of data-driven ads across 9 countries, combining data science, creatives & technology to deliver highly relevant ads to the right people at the right time.
ADA are a modern digital agency with technology at their core. An Axiata owned company with their own data management platform predominantly based on telco data.
Watsawan Harnnarong (Jeab) - Senior Data Modeler at Allianz Technology - Jeab has managed data projects at Allianz Technology, aCommerce, Teradata, and IBM. She has worked in various industries and is currently working on the General Data Protection Regulation (GDPR) for a client in the EU. She has a lot of experience to share on big data systems for business.
Supreeya Kanikananta - Digital Transformation Consult | Big Data Scientist | CRM strategist POMO House International - Supreeya is a seasoned Digital CRM marketer rooted in Big data. She has more than 15 years of experiences working on both client side and agency side for various industries. Supreeya founded Pomo House PTE and co-founded Dreambase Interactive Co., Ltd since 2003 She has served her clients in various industries. Her company's areas of the specification include Online Marketing, Mobile Marketing and Brand Development & Database Marketing.
Moderator:
Gareth Davis - Director Fluxus Thailand - Gareth brought Fluxus to Thailand in 2015 and in doing so opened up the digital expertise and experience of a UK team to businesses in South East Asia. Fluxus is behind some of the most cutting-edge innovations defining Thailand 4.0, such as the smart city.
Agenda:
6.00 - 6.30 Registration and Networking
6.30 - 6.50 Opening presentation on Data used in Digital Advertising
6.50 - 8.15 Panel discussion and open questions
8.15 - 8.30 Networking and close
Cost: THB400 for members. THB600 for non-members. Price includes drinks and finger food. Pre-registration is required. No walk-ins accepted. E-vouchers are accepted for advance booking only. Please state "e-voucher" in the comment box of the online booking.
Cancellation policy: Reservations not cancelled within 2 business days of the event will be charged and invoiced as will no-shows.